Crispin Cioe Founder | Cracked Ice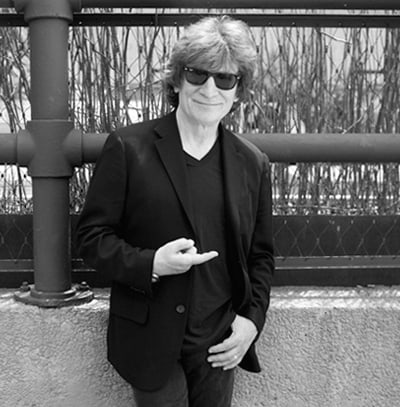 Cracked Ice Consultation
Schedule a musical consultation with Crispin.
What Crispin Brings to the Party
Because he has led successful bands onstage, on television, and in the recording studio, Crispin Cioe brings an unparalleled level of professionalism and creativity to the Cracked Ice experience. Crispin was born in Detroit, Michigan, and grew up Chicago and New York, then attended high school in the Detroit suburb of Grosse Pointe.  While in high school, he formed a jug band with some friends, including future blues-rock legend James Montgomery, and they performed around the Detroit area, on local TV shows, teen dances and coffeehouses.  Crispin attended college at University of Michigan, Wayne State University, and Berklee School of Music in Boston,  ultimately settling in New York City.  There he developed a side-career as a free-lance music journalist (writing for magazines Stereo Review, High Fidelity, Playboy, Soho Weekly News, Village Voice, and doing liner notes for albums and CDs), while at the same time jumping into the the world of a studio recording/touring sideman on saxophone (working with bands and artists like Mink DeVille, Carolyne Mas, Geoff Muldaur, Tom Rush, The The, Kid Creole & The Coconuts; performing on soundtracks "Blood Simple" by the Coen Bros., "China Girl by Abel Ferrera, etc.). In 1980 with three other horn playing partners– Bob Funk, Arno Hecht, and Paul Litteral (who was replaced on trumpet by Larry Etkin a few years later) – Crispin co-founded the Uptown Horns, which went on to become one of the pre-eminent horn sections in the world.  The Uptown Horns have toured and recorded with the Rolling Stones. Check out the clip below from the IMAX film of  the Rolling Stones' "Steel Wheels" Tour.  Crispin and the rest of the Uptown Horns make their entrance 2 minutes in . . .
Rolling Stones: Live at the Max
The Uptown Horns continue to perform and record as a section, with recent featured appearances with Billy Squier (at Iridium in NYC), the James Montgomery Blues Band (concerts around New England), and J. Geils Band (Boston's Fenway Park with Aerosmith, and other concerts nationally).  A fan uploaded a video of the performance to youtube.
J. Geils Band (Boston's Fenway Park  August 2011)
Crispin has play on the critically acclaimed Tom Waits ("Rain Dogs"). He has toured with Robert Plant & The Honeydrippers. He has recorded with Joe Cocker (
Unchain My Heart
). He's blows on sax and congas with Buster Poindexter (
Hot Hot Hot
) and his sax is all over
French Kissing in the USA
. Check out the live performance on
Saturday Night Live
.
Debbie Harry on Saturday Night Live
On his own, Crispin has music directed a wide variety of events for television, film and the recording industry, and has deep skills arranging, producing and conducting all kinds of music. In 2002, Crispin served as MD (Musical Director) of the acclaimed off-Broadway play
True Love
by Charles Mee, leading a band onstage with his own compositions and arrangements–for which he received a Drama Desk Award nomination for Best Music .  Crispin has MD'd television shows (the comedy series
Buster's Happy Hour
on VH-1 and the
James Beard Awards Show
on the Food Telvision Network.)  Crispin has scored and arranged for film (
The Real Blonde; Burnzy's Last Call)
.   As a musician, he has studied with the masters — playing sax many times under the baton of Paul Shaffer on
The David Letterman Show;
writing, arranging, and performing with Buster Poindexter; and playing live and recording with a pantheon of musical heavies that includes Ray Charles, Aretha Franklin, James Brown (sax solo on the #1 hit song "Living in America"), Howard Tate (whose LP "Rediscovered" was nominated for a Grammy award), Wilson Pickett (all horn arrangements on the Grammy-nominated "It's Harder Now", Chic (including the Mt. Fuji Jazz Fest in Japan), a recent concert tour of Japan with soul titan Sam Moore, and in 2010, featured sax soloist with pop music icon and recent Rock & Roll Hall of Fame inductee Darlene Love on her legendary Christmas concerts.
Starting in the late 90s, Crispin began performing as featured  saxophonist for "The Mark Twain Prize for American Humor" at the Kennedy Center in Washington, DC, all shows broadcast nationally on PBS.   In 2008, Crispin was named Musical Director for the Mark Twain Prize that saluted the late, great George Carlin, and in November, 2010, he helmed all music production for "The Mark Twain Prize Celebrating Tina Fey", which is currently running on PBS.  Crispin conducted expanded versions of Cracked Ice on both the Carlin and Fey programs. In the video below, Jimmy Fallon honors Tina Fey in a send-up of Bono's Beautiful Day.
Jimmy Fallon Beautiful Fey
In a sneak peak clip of an impromptu performance by Jack Black, you'll see Crispin standing on stage  in his role of Music Director, conducting the band. Jack Black does a send-up of his famed School of Rock performance to honor Will Ferrell.
Jack Black on PBS Mark Twain Prize