Band Leaders | Cracked Ice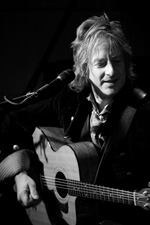 Eric Nicolas
Eric Nicolas brings a multi-faceted musical background to his work with Cracked Ice. He's a skilled solo performer on guitar and vocals, well known as such in chic midtown boites and East Village music bars, and is equally at home singing bossa nova in Portuguese, anthemic classic rock, or his eclectic and ultra-melodic original songs. Eric is a deft nylon-string classical guitarist, a shredding rock picker, and has toured extensively playing and singing backups with such as Phoebe Snow and Taylor Dayne. He has worked with Crispin and Cracked Ice for several years, and has led bands for all kinds of events for over a decade. Crispin says "Eric can dazzle a crowd with his ability to quietly lead a band of musical heavyweights, then instantly jump to center stage and sing lead on anything from Michael Buble to Journey to Jobim. "Quite frankly," says Crispin, "Eric Nicolas is uniquely qualified to lead Cracked Ice: he's an amazing musical performer, but also has the executive skills and turn-on-a-dime confidence to lead an all-star band like Cracked Ice in any situation. I love working with Eric in my band, and I feel nothing but confidence when he leads the band, because I know the party's always in good hands with him."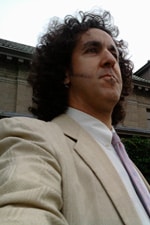 Ivan Bodley
Besides working extensively with Cracked Ice, bassist Ivan Bodley has music directed for soul greats Sam Moore, Martha Reeves, and Gloria Gaynor. Ivan and Crispin have played together with a variety of great artists on concert stages, on television shows, and in recording studios, and as Crispin says, "Ivan and I have been tested in so many situations, where the heat was really on, so to speak, that I can honestly say I have the utmost confidence in his ability to lead, to do what I do, in any Cracked Ice situation." Ivan also currently works on Broadway in the hit musical "Rock of Ages", playing and singing onstage. Ivan's steady hand as a conductor and his supreme communication skills have elevated him, along with Crispin and Eric, to the first rank of bandleaders on the East Coast. . . . along with his established reputation as one of the great NYC-based bass players.
Along with Crispin, Cracked Ice features two equally experienced bandleader/musicians, both with the chops, maturity, and performance savvy to make any event they lead a certified "Cracked Ice Party". Bassist Ivan Bodley and guitarist Eric Nicolas have worked with Crispin extensively over the past 8 years, and have thoroughly absorbed all the Cracked Ice event hallmarks: attention to detail, careful song choice and order, memorable musical flow, controlled dynamics, and the ability to create a perfect and individual musical "underscore" for each unique party, reception or gala where they perform with Cracked Ice.
For parties where they lead a band, Crispin works closely with Eric and Ivan, planning every aspect of the event from Day 1: the song choices, the logistical details, the travel routing, etc. And since all the musicians and singers in Cracked Ice have deep backgrounds in recording/touring work on the highest levels – the goal is always to bring the same level of musical excellence to each party we play, that we've all brought to concert stages and studios the world over.
Cracked Ice Consultation
For a musical consultation with Crispin: